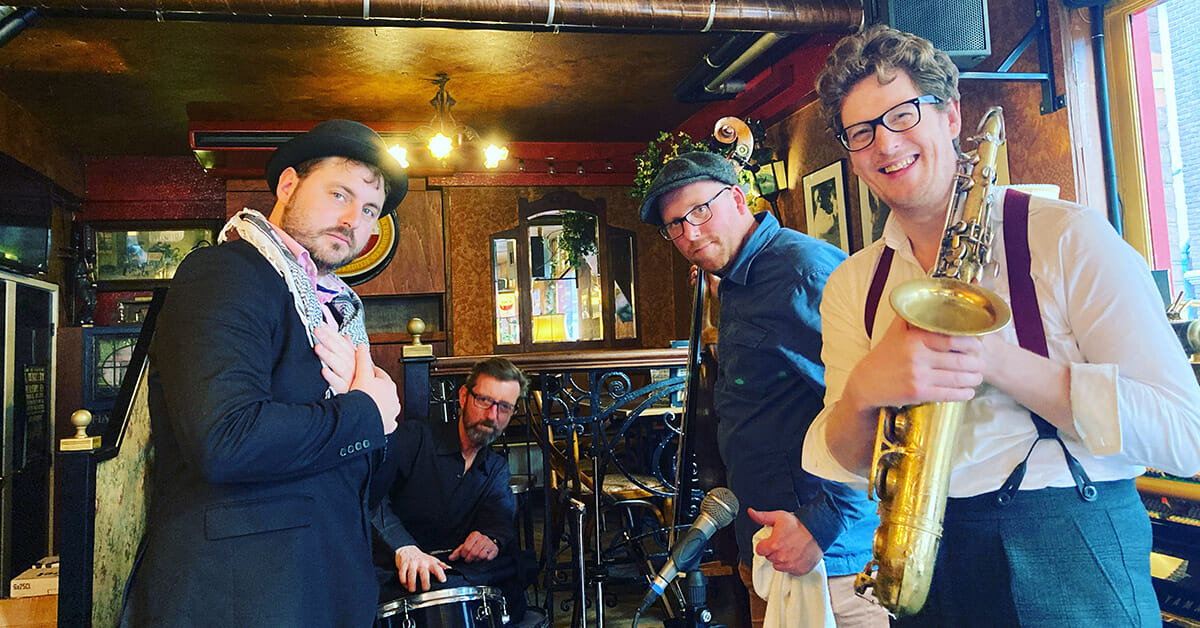 August 27, 2023 – Hue Blanes' Hot Swing Six
Hue Blanes' Hot Swing Six will play for us Count Basie, Duke Ellington, Louis Prima, and Ella Fitzgerald, and some of the hottest names in Swing. The sextet will make you sweat with beads of energy. The Hot Swing Six brings the sound of the 1930's and 40's to our swinging dance party. Striving for the spirit of authenticity, improvisation, and featuring instrumental and choice vocal numbers from the golden era of music, Blanes' Hot Swing Six is sure to please!
Hue Blanes' Hot Swing Six is especially for lovers of jazz and swing dance. Together we dance lindy hop, balboa, collegiate shag, blues and solo jazz!
THE WORKSHOP
Workshop from 2:00 to 2:45, Hanna and Roy will take you through many variations of the cuddle-up!
THE LOCATION
De Prael is a trendy brewery that sits right on the water and offers up locally made beers and fresh food. Best of all, it has a wooden floor just right for dancing.
Time: 2:00-6:00 PM
Music: Hue Blanes' Hot Swing Six
DJ: Ron Smits
Place: De Prael, Den Haag

Entrance: €11 (€7,50 for students), pin only, workshop included.
Parking available in the surrounding area