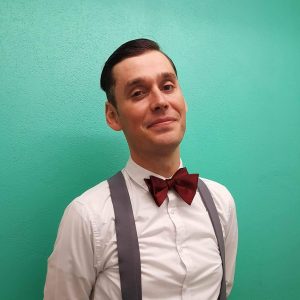 Joris Focquaert
From: Ghent, Belgium
Joris discovered the Lindy Hop in Copenhagen when he was studying at the Commedia School for mime & physical theatre. A background in the art of clowning, he takes his unique expressivity to his social dances & performances, forming his attitude towards the dance. In class, Joris tries to share his best of ideas. He is one of the starting figures of swing dance school 'Crazy Legs' (Ghent) & vernacular Jazz dance troupe 'the Dipsy Doodles'.
Today he is a busy working dancer in Belgium & abroad, next to studying the Jazz trombone.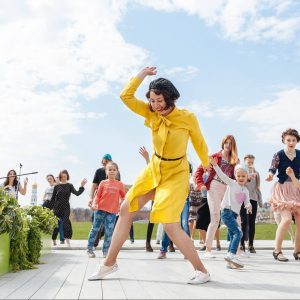 Yana Sanamyantz
From: Moscow, Russia
Yana is an active swing dancer, performer, teacher and DJ. She was surrounded by jazz since childhood, while dancing came much later. Since the first lindy hop lesson, she fell in love with the swing scene and started devoting all her time to music and dancing. Raised with love in Moscow Swing Dance Society she shortly became a teacher there and in a few years started to travel for sharing and finding knowledge. In class, Yana is conveying joy, respect and love for the dance with her students.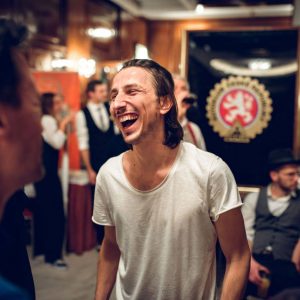 Tomasz Przytycki
From: Kraków, Poland
Tomasz is currently based in Poland, however he began to dance in 2005 in upstate New York, and from that point there was no turning back. Tomasz attended two schools for dance: one ballet and modern dance, and the other focused on improvisation and post-modern dance. He's was involved in the creation of the Polish Lindy Hop scene, and is one of the organizers of one of the biggest European Lindy Hop Festivals:
Dragon Swing
. Tomasz believes that as a teacher the best way to convey the dance is by providing inspiration and energy, and the three pillars that he builds the dance on are rhythm, communication and improvisation.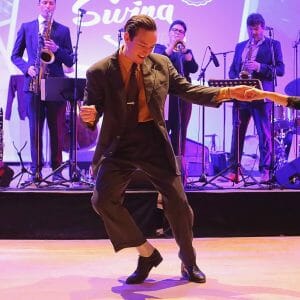 Alex McCormack
From: Brussels, Belgium
Alex is Benelux vice champion in breakdancing and has been teaching urban dances for over 14 years. Later, McCormack discovered old clips such as Hellzapoppin and Spirit Moves, and said to himself "that's how I want to dance this dance". He decided to ongo the never ending journey of studying "oldschool" style of Lindy Hop and Authentic Jazz. For him, originality and authenticity comes from individual expression while remaining true to the dance and its founders. He will jam for hours into the early morning to uptempo Bebop Swing, shaky Mambo and slow Blues. Back in Brussels, he trains with his group, the Old Soulz.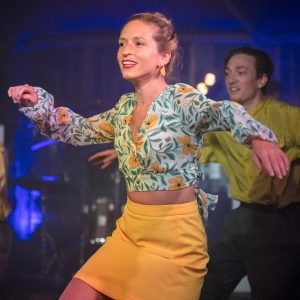 Jill De Muelenaere
From: Brussels, Belgium
Jill started dancing when she was a child. She is trained in classical ballet, modern jazz and jazz dance, contemporary dance and yoga. She has been teaching these different disciplines for the past years, now sharing her time between her passion for dancing, her work as a contemporary dance producer, a massage therapist and a yoga instructor. She discovered lindy hop while at University and since then has been performing, teaching and attending numerous workshops around the world. Specifically inspired by the authentic vernacular dancing showed in old movies and the african roots of the dance, Jill is ceaselessly in search for a sense of freedom within the dance. In class her goal is to create a joyful yet challenging and encouraging experience for everyone allowing each dancer to develop their own individuality in their dancing.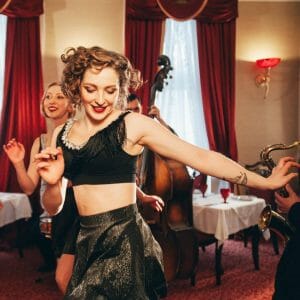 Genia Tsvietkova
From: Kiev, Ukraine
Although Genia has been dancing since she was six years old, she discovered her love for Lindy Hop in 2006. Blues, Boogie-Woogie and other dance styles have kept the learning process exciting ever since.
Genia has taught in Russia, Belarus, Poland, Lithuania, France, Belgium, Taiwan and won an array of competitions across Europe between 2012 and 2019. Since 2015, Genia has been a part of the Shiny Stockings Chorus Line in Kiev.
Dancing is an important part of her life. This attitude makes her not only a talented and dedicated dancer, but also a responsible and attentive teacher. She focuses on mixing the smoothness of blues, energy of lindy hop and feeling the music inside of yourself. Her classes are concentrated on how to connect your dance more with the music and how to enjoy your dancing more.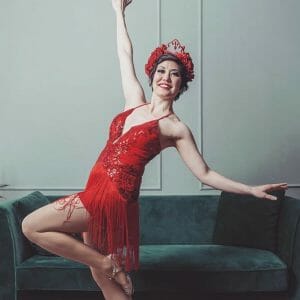 Selena Kruse
From: Berlin, Germany
Originally from America, Selena is a professional swing dancer, DJ and instructor in Berlin. In addition to over 13 years experience studying dances and music of the Jazz Era across the US and Europe, Selena has performed as a dancer and actor for several TV spots including DPD Deutschland and Ku'damm 59, on the Berlin Belles Chorus Line, and regularly competes and performs around the world.

She values playfulness, creativity, and musicality in a dance, and tries to help people find that same joy through good music and solid instruction. There is nothing that feels more amazing than the freedom of creating in the moment and truly being yourself, and she always does her best to pass this confidence and flow onto her students.